As workers across the country organize collective actions to demand fair treatment and improved conditions, allegations from some former employees of Little Rock's popular downtown eatery Three Fold Noodles and Dumpling Co. are stirring controversy.
On October 16, a group of people in front of the restaurant passed out flyers to passersby that said "Three Fold Exploiting Employees." The flyers detail concerns about missing tips and discrepancies regarding employee wages.
On October 22, the group held what they called a "peaceful sit-in" at the restaurant to raise awareness. Organized by 24-year old former employee and worker advocate Dylan Lee, the demonstrations were intended to protest what some former Three Fold employees are calling "abusive" and "sketchy" practices from their old employer. Lee and his supporters are steadily gaining local support from other service workers and labor activists.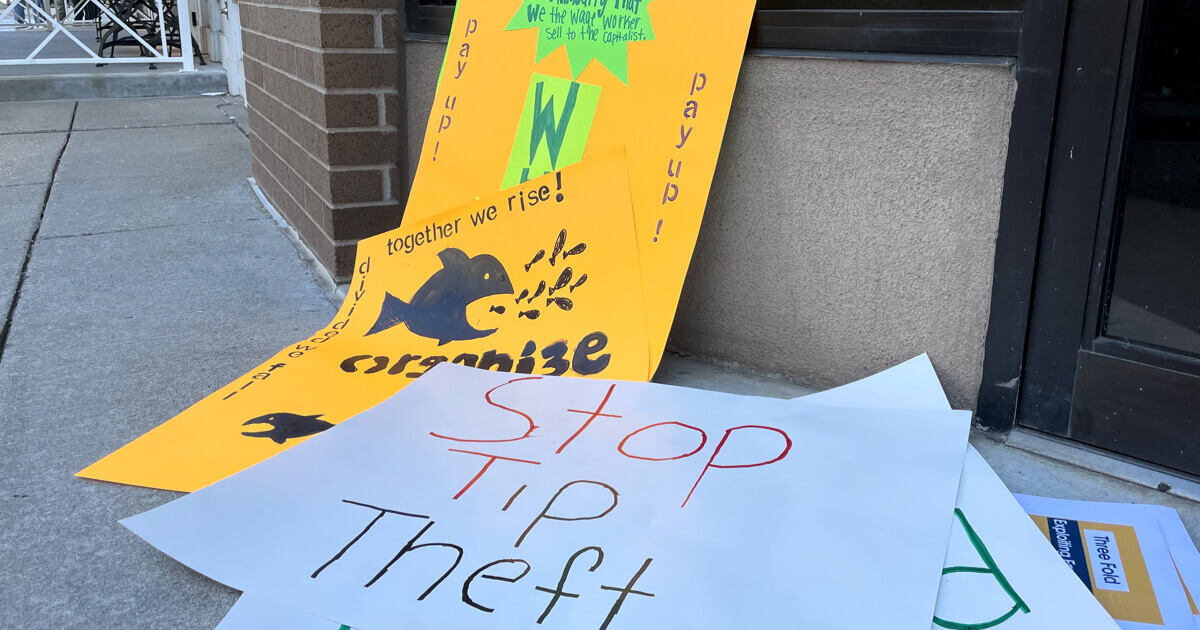 "Stop doing business with them," Lee says in an Instagram post calling on the local community to boycott the business. "That means no more bubble teas. No more $15 dumpling bowls that the majority of their employees cannot even afford with an hour's worth of work."
He's not wrong: starting at $9.50 an hour, Lee was struggling to make ends meet while working over 60 hours a week at the eatery for the past two and a half years — through the entire COVID-19 pandemic.
While Lee mentions experiencing some of the unfortunate realities of working in so-called "entry-level" restaurant jobs – realities that became even more commonplace during the pandemic, like being forced to work long shifts to make up for short staff, and not being able to take time off (even for medical reasons) without risking his job – he says there's more urgent reasons he finally chose to organize collective action.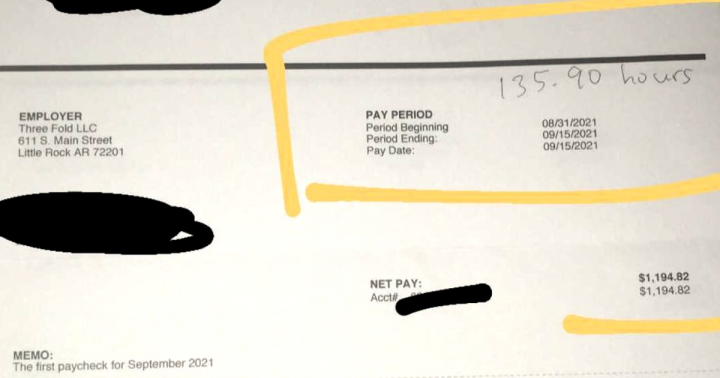 "I noticed right off the bat that my paystubs, where it says 'tips,' that there would be dashes or zeroes for that amount. So I went to our managers and asked about it. They said our tips go toward 'Employee-of-the-Month,' or they would say our tips go toward a monthly bonus. They never really gave me a straight answer," says Lee.
That wasn't the only discrepancy employees began to notice, says Lee, and management's response to the situation discouraged him and his coworkers from pointing out what they felt was yet another issue stemming from lack of transparency regarding wages.
"When I first started working, I never really paid attention to how much overtime I was putting in," Lee adds. "$750 or $800 a week was a lot to me at that time, so I just assumed that's how much I was supposed to be getting paid. But as time went on, and they started working me fifty, sixty, or even eighty hours a week sometimes, and it wasn't reflected in my pay, that's when I was like 'okay, something isn't right.'"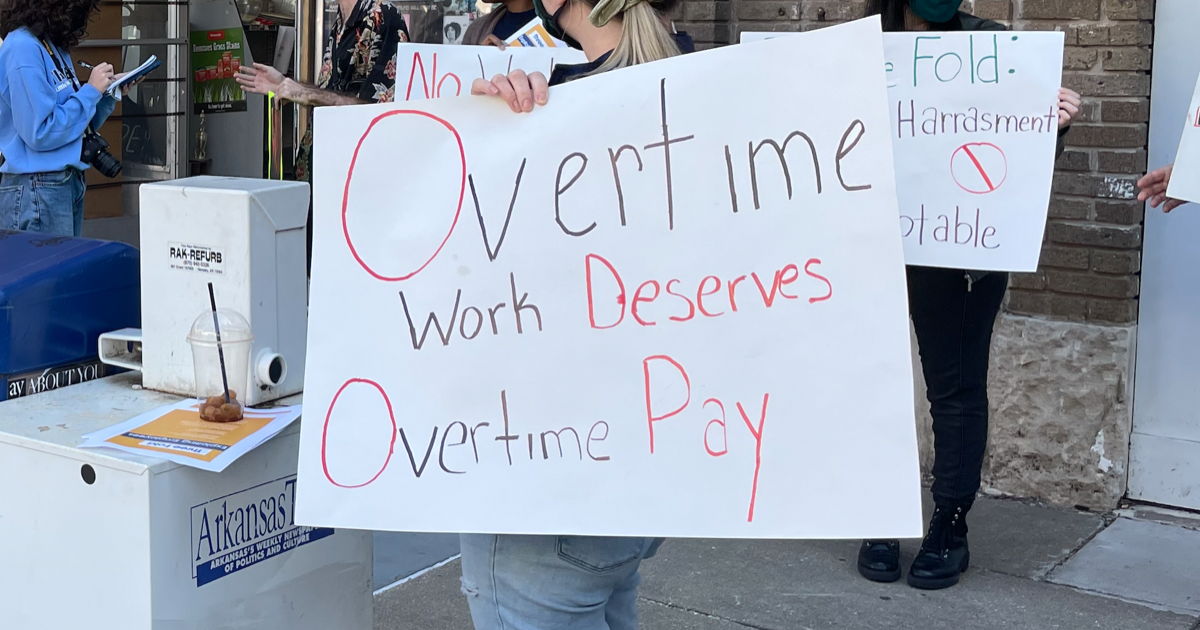 It's not unusual at all for employers — whether intentionally or not — to fail to pay their employees proper overtime wages, according to Josh Sanford, managing attorney of Sanford Law Firm. Last year, Sanford filed more employment cases in federal court than anyone else in the United States. He says representing employees in unpaid wages lawsuits make up the vast majority of the thousands of cases he's worked on.
"Employees often don't know their rights, and to my way of thinking, there's really no way to know what percentage of the workforce is having their wage rights violated," says Sanford. "Most employers get away with it most of the time. Employees tend to not know their rights. Some employers violate the law accidentally, some do it on purpose. But if an employee becomes aware that their rights are violated, they can sue."
---
Your labor rights
You have the right to bargain collectively (work as a unit to negotiate wages and benefits). This includes unionizing.
Your employer can be fined for firing you for pointing out poor working conditions.
The minimum wage in Arkansas is $11.00 per hour. Full-time students working twenty hours per week or fewer are allowed to be paid 85% of that.
---
Another former employee, Kyndall Jackson, was only 17 when she started working at Three Fold. Her previous employer was very transparent about wages and would clearly document her hours and pay – a noticeable difference, she says, compared to her experience at Three Fold. As Jackson began accumulating tips and overtime hours, she remembers having a similar realization as Lee.
"The amount of money that we were all getting, like deposited into our bank accounts, was not matching that [paystubs]," says Jackson. "Anytime we asked about it, there would be this super vague answer. Like, they would be like 'oh we're redirecting the tips' or something like that. And we'd be like 'well, where?' And nobody would answer."
Lee became a salaried employee in June. It was at this point he was told he was required to work a minimum of 45 hours a week and would no longer be entitled to overtime pay.
Sanford Law Firm addresses this issue on its website's FAQ: "Salaried employees working in executive, administrative, professional and certain technical capacities may be what are called FLSA exempt and not entitled to overtime pay. Employees must be careful, however, as some employers incorrectly classify employees as FLSA exempt in order to avoid paying overtime."
Workers like Lee and Jackson represent the 78% of the American workforce that are employed in the service industry, popularly referred to as "essential workers" during the COVID-19 pandemic. While the conditions created by the pandemic started a national conversation about the importance of service labor, some say the wages and work conditions of "essential workers" still doesn't reflect just how essential their labor is to the daily lives of American citizens. Now, workers like Lee across the country are demanding change, with several high-profile boycotts and potential strikes brewing in different industries.
"Anything on any scale relating to the broader issue is important," says Jackson. "I think the pandemic really made people slow down and kind of realize 'Oh, I'm getting treated like shit,' or 'Oh, I'm not getting paid enough. As a whole, I think all of the strikes that are happening are really good and empowering for the workers. People are realizing that they shouldn't get treated like this."
Lee also says he recalls his former employer initiating conversations with him about his political beliefs throughout his employment at the restaurant. He describes multiple instances where he believes his employer, without being prompted, would attempt to convince him that his politics are wrong or harmful. Lee asserts that he was discriminated against by his employer for supporting left-wing ideologies and for wanting to organize for change in his workplace.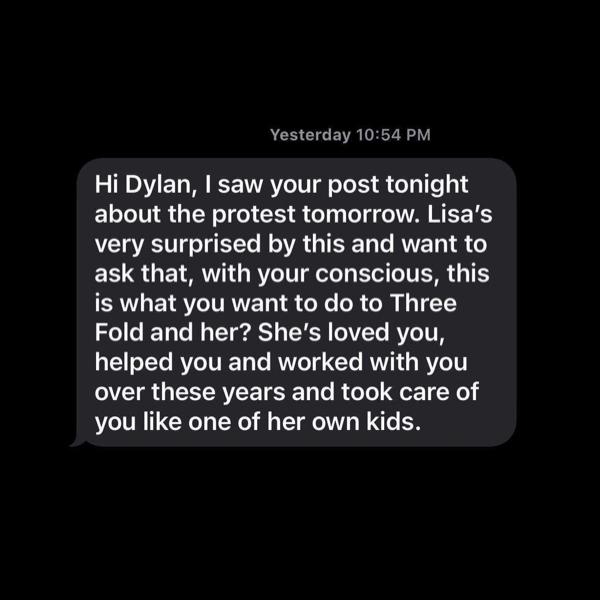 Lee explains that he and another former employee both filed complaints with the Arkansas Department of Labor after persistently trying, with no success, to set up a meeting with Three Fold staff and their employer to discuss what appeared to be discrepancies on employee paystubs. Lee says he had to refile his complaint at the state level after he was told that Three Fold refused to provide documents to federal investigators. It was then he decided to take the next step: plan a peaceful collective action to get their attention.
"That's when I think someone may have told a manager that I was trying to organize," he said. He says that he received a text message from a manager on the day he posted about his plans on Instagram, informing him that his employer had found out and wants him to reconsider.
"Then I received another text message on the 15th," says Lee. "It said […] 'I really hope that you can stop thinking about doing this and putting everyone in danger, including yourself, and as a result we are terminating your employment with Three Fold as of this morning."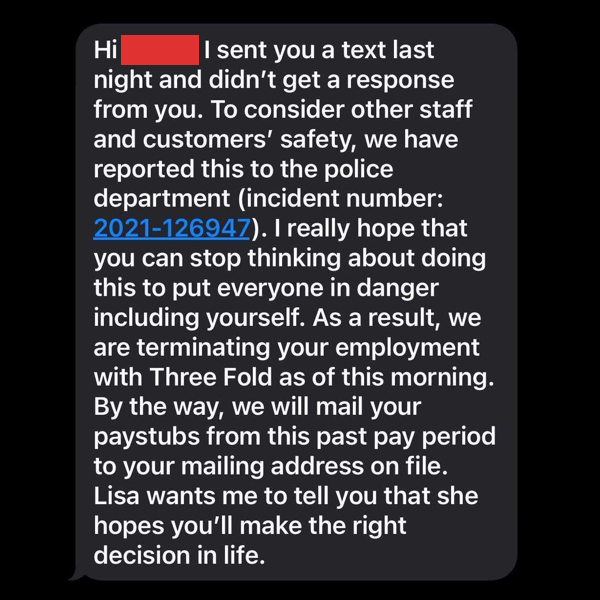 Three Fold Noodles and Dumpling Co. certainly isn't the first small business in Arkansas that's been accused of mishandling employee wages. Both Lee and Jackson report hearing numerous stories about stolen tips and overtime wages from other service workers in Arkansas. In fact, one of Sanford Law Firm's most prominent cases involved an Arkansas bar manager who had been misclassified by her employer as "exempt" from the Arkansas Minimum Wage Act (AMWA) and the Fair Labor Standards Act (FLSA), resulting in the worker receiving a $32,000 settlement from her employer.
---
Did you know?
Three Fold spends upwards of $1.20 per meal on disposable containers.
Over $100,000 was spent on design for a new location that never opened.
---
"We should support local businesses that treat their employees the way that they deserve to be treated, and to pay their employees the wages that they're due," says Lee. "You should never support local businesses at the expense of the workers."
Lee and Jackson both say they hope the demonstrations will raise awareness of how employees are treated at Three Fold, and that community pressure might result in the business changing its practices. Jackson says she fully supports Lee and believes that other current and former employees support him as well, but are too afraid to speak out.
"As far as I know, they [other Three Fold employees] definitely feel the same way as I do," says Jackson. "I know that other former Three Fold workers still live in Arkansas, and they may find themselves in a position where they want to be able to find jobs easily again, so they may be more hesitant to be vocal about it for that reason. But they, as far as I know, they definitely fully support Dylan as well."
Three Fold owner, Lisa Zhang, did not respond to requests for comment. On Friday, October 22nd, the restaurant's Instagram page posted an image of their logo. It states in the caption, "Three Fold has fully complied with all federal and state laws, rules and regulations concerning employees and employees' wages. Three Fold absolutely denies the statements made by these two individuals."
My main goal in this is to help the people that are still working there, and for anyone that comes after them, so that no one has to be treated this way again.
Lee has also received support from organizations like the Central Arkansas Democratic Socialists of America and the United Labor Unions, as well as from other current and former service industry workers who relate to his experiences. Though he believes he was fired from his job for trying to organize, Lee says this hasn't deterred him at all.
"I'm not doing this for me," says Lee. "We do understand [..] that we may not get anything whatsoever out of this. We may not be compensated for those hours of work. We may not get the tips that we earned. But that's not why we want to do this. My main goal in this is to help the people that are still working there, and for anyone that comes after them, so that no one has to be treated this way again."
Jackson no longer lives in Arkansas, and says her new employer is much more transparent and she experiences fair treatment at her new workplace. Lee is currently looking into self-employed work and is interested in continuing to organize in advocacy of workers rights. Both Jackson and Lee say they believe their experiences at Three Fold are relevant to the broader issue of workers' rights in the country, and they hope that organizing demonstrations and starting a public dialogue will encourage other workers to also unite and stand up for fair wages and fair treatment.
"People should care, because who's to say it won't happen to them?" says Lee. "I know they would want someone to care about them, and to rally behind them too when the time comes."