A Facebook post by activist group Venceremos calls attention to a memo passed to employees by Tyson management giving an overview of a program called the "Tyson Foods Helping Hands Fund" which claims to "help employees who are facing financial hardship immediately after a natural disaster or an unforeseen personal hardship."
However, the fund relies primarily on individual donations and an initial seed by Tyson, with all indications that ongoing donations should come from coworkers. It's also a means-tested, confusing mess.
Taking a page from the neoliberal playbook, Tyson is telling its employees to step up and shoulder the economic load of this pandemic while at the same time sending them to die in unsafe plants for profit.
This is a company that grossed over $5,000,000,000 in profit last year and whose CEO brought in over $8,000,000 in salary and stock.
The fund
So beyond the inhuman cruelty of a company with this much capital not taking care of their employees ability to live (let alone live well), let's take a look at the fund itself.
The fund was launched with a seed of $500,000 in March alongside a PR push by Tyson during which the company donated around two-million in community grants (Tyson once again put the onus of giving on its workers, stipulating, "plant management teams have discretion to invite local nonprofits to apply for small grants.").
Note that Tyson has over 140,000 employees at the time of this writing, so that initial seed works out to around $3.50 each.
Tyson also donated eleven-million worth of product. This total contribution to Arkansas communities accounts for around 0.006% of the Net Income Attributable to Tyson for 2019.
Workers looking to apply for the fund are limited to a minimum of $500 and a maximum of $1500. They must also "regularly scheduled to work any number of hours" and not have been on medical leave for more than a year.
And with over sixty-four-million Americans living in multigenerational homes, Tyson proclaims: "Parents, grandparents or other relatives are not considered dependents, unless the employee can show that they are claimed as a dependent on the employee's IRS (or government) tax returns."
But what would a means-tested financial grant be without a matrix? Enter the Qualified Events/Expenses Matrix.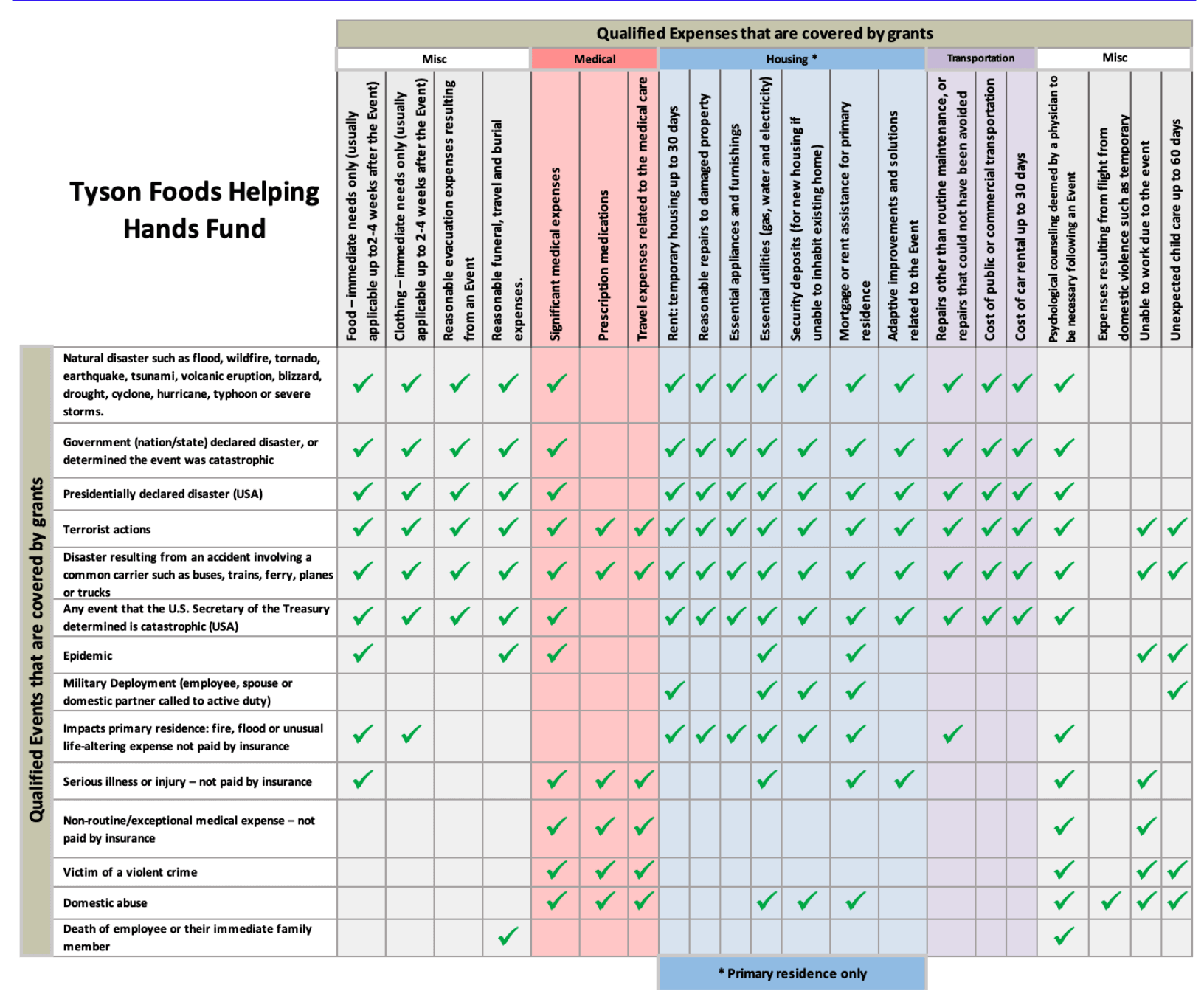 Just look at that bureaucratic mess.
The excluded expenses really narrow down the utility of this fund, as well, with Tyson being clear they won't cover the following:
Routine medical/dental expenses (supplies, prescriptions, bills, procedures, etc.)
Non-essential utilities including telephone, cable, or internet
Past due rent/mortgage from prior residences
Home repairs, including major appliances and heating/cooling equipment
Routine automobile maintenance expenses (tires, batteries, insurance, etc.)
Legal fees/expenses
The fund won't pay out for any of these "events," either:
Robbed/identity theft
Lost money
Loss of child support, food stamps, SSI, unemployment benefits or any other supplemental income
Payment of child support
Loss or reduction of Tyson Foods work hours
Loss of seasonal or temporary work
Paying legal fees/court costs
Maternity leave (unless extended due to complications with team member or child)
These aren't hoops they're making people jump through, they're needle eyes taped to fan blades.
If a workers' plights and expenses fall on a green check on the matrix, they can proceed to a seven-step application process with a review and approval process that may last up to ten business days.
What if Tyson's onto something?
Let's be clear: Tyson should be doing much, much more for their employees. The Helping Hands Fund is clearly a PR stunt that can – by its own rules – only help a small subset of employees and at a maximum of $1,500 per year. This is unacceptable from one of Arkansas's largest companies and one whose pork sales were up 600% earlier this year.
If there's a silver lining here, it's that Tyson has essentially illustrated a model for a worker-powered strike fund.
A fund into which workers on their own volition could donate in order to have each others' back when someone falls on hard times.
A fund that could hold the bills at bay while workers took to the picket line in strikes.
We should admonish and shame Tyson for the astonishing greed and cruelty on display here, but we can thank them for a nice mental image of what worker financial solidarity could look like.
When workers can worry less about meeting their immediate needs, they can focus on organizing and fighting for better wages and working conditions – or in this case, their lives.